Borders walks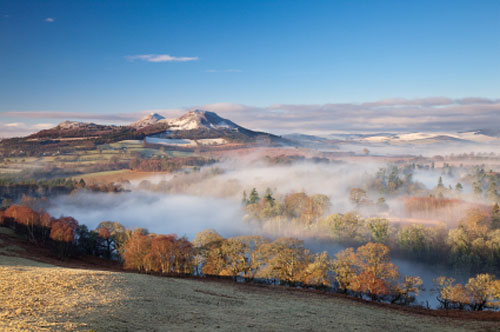 Boots are made for walking in the Scottish Borders
Wide open spaces and sensational scenery make the Scottish Borders the perfect place for walkers all year round – whether it's a gentle stroll or something more demanding. There are some 1500 miles of dedicated walking routes in the Scottish Borders, many of them themed, so you will often find yourself following in the footsteps of famous names from history.
From the high moorlands around St Mary's Loch to the rugged coastlines of Berwickshire, the Borders is an area of 1800 sq miles of breathtaking natural splendour.
It is home to six national walks including over a third of the 212-mile Southern Upland Way and, at Kirk Yetholm, the official finishing point for the 268-mile Pennine Way.
The Borders Abbey Way (65 miles) connects the Borders four great abbeys at Jedburgh, Melrose, Kelso and Dryburgh. Made up of four sections it offers a route that takes in some of the main towns in the Borders.

Staying on the religious theme, the 60-mile St Cuthbert's Walk traces the life of one of the north's best loved saints who ministered at Melrose before ending up on Holy Island where he served as Bishop of Lindisfarne.
The Berwickshire Coastal Path (15 miles), stretching from Berwick-on-Tweed to St Abbs takes in outstanding scenery and coastline packed with wildlife, secret coves and harbours.
For those looking to tread between the lines there's the John Buchan Way, a relatively new path covering 12 miles from Peebles to Broughton that celebrates the author's many associations with the region.
And it's a similar story with Sir Walter Scott who drew inspiration for many of his books, characters and poems from living and working in the Borders.
Every year the Scottish Borders holds a walking festival and this year the Festival is centred on the Tweed valley. The festival runs from September 2-8 and more information is available at www.borderswalking.com