Middle Pavilion Fishing River Tweed Melrose Scotland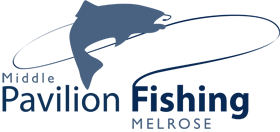 The Middle Pavillion beat provides excellent salmon fishing on the River Tweed. The riverbanks are regularly maintained to ensure ease of access and casting.
Middle Pavilion Fishing on the River Tweed is situated either side of Lowood Bridge on the Melrose to Galashiels road. The beat has picturesque views of the Eildons and the beautiful surrounding countryside. Middle Pavillion is sheltered by hardwoods on the south bank giving protection from the southerly and westerly winds. The north side of the river is made up of a large easily accessible grassy bank where the hut and decking preside.
Our River Tweed Fishing Experience consists of eight named pools and a traditional tweed boat. There is an experienced full-time ghillie on hand to guide fishermen to the catches and give assistance wherever possible. Seven pools can be fished off the bank or by easy wading along gravel, whilst the other being deep is fished by the boat.
Due to its proximity to the A68 and A7 access to the river is very good being just off the B6360. Edinburgh is 35 miles to the north and the towns of Galashiels and Melrose are two miles away. There is a good selection of hotels and B&Bs in the area, together with some of the best eating places in the Borders.
For further information please contact Mick Charlton at Middle Pavilion Fishing
Scottish Genealogy Research | SD Consultancy Modern Apprenticeships Scottish Borders & Scotland