St Boswell's – saintly connections and a beautiful location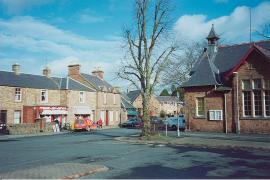 In a land that came to be known as the cradle of christianity in the north it's hardly surprising to find a major saint or two.
The Borders list includes pivotal figures of the church's early beginnings, from the 6th century onwards, such as St Aidan and St Cuthbert.
The man who filled the generation between was St Boisil, a student under Aidan and a mentor to Cuthbert, who gave his name to the pretty village of St Boswell's.
During Boisil's lifetime, which saw him rise to become abbot at Melrose, the border region was part of the powerful kingdom of Northumbria, stretchinf from Yorkshire to Edinburgh. He died in 661AD and was interred at Melrose where miracles at his tomb resulted in his body being transferred to a beautifully carved shrine. Parts are now preserved in the museum at Jedburgh Abbey
His remains, however, now reside at Durham Cathedral, thanks to an enterprising bone collecting monk called Alfred. Churches in possession
of particularly saintly relics attained celebrity status, and could grow rich on attracting visitors and donations.
St Boswell's other claim to fame is its 40-acre village green, said to be the largest in Scotland, and home to an annual fair in July dating back to the 1600's, and a significant occasion on the local calendar.
The village is perfectly located, a crossroads community at the heart of the region, for touring the Borders and has several major attractions on its doorstep. Among them is Dryburgh Abbey, resting place of Sir Walter Scott, the William Wallace monument and magnificent stretches of the River Tweed.
St Cuthbert's Way passes through St Boswell's on its way from Melrose to Lindisfarne.
Another intriguing historical note from St Boswell's is a connection with the Knights Templar who are reputed to have run a hospice on lands known as Temple farm. Firm information has sadly been lost in the mists of time.
Peebles - a town with 'people appeal' | A town in touch with its historic traditions