Stage Four - Morebattle to Yetholm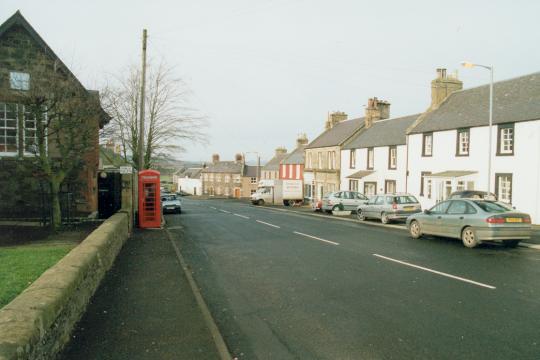 (6.5 miles / 11 kms, Max Ascent 1150 ft / 350 metres)
Leaving Morebattle, you pass Teapot Street, its unusual name believed to be a corruption of 'Tip it Street', the road to the village dump. Bear right just outside the village, up the steep hill signposted Hownam, and down the other side into the Kale Valley.
Hownam is a small village with a church further up the valley. Just over a quarter of a mile up this road, you will come to a ford, where for many years, locals used to park their cars, and the local bus company their buses, to wash them in the flowing water.
About another 100 yards along, the footbridge over the Kale takes you into the field, over the stiles and up the hill. From here there can be fine views back over Morebattle to the Eildons Hills on the horizon.
At this point comes one of the steepest climbs of the whole walk to the top of Wideopen Hill, the highest point of the way, with more fine views towards Yetholm and its loch. Downhill from here will take you into the valley of the Bowmont Water and into either Town or Kirk Yetholm depending upon which route you follow from the outskirts of Town Yetholm.
As you reach the valley bottom you are passing through the former Parish and township of Mow, whose name is preserved only in Mowhaugh.
Yetholm is, of course, linked to the Border Gypsies, and many of the local families have gypsy blood, even in very small quantities, in their veins. The link is continued by the election each year of the Yetholm Lad and Lass - the Bari Gadgi and the Bari Manushi.
On the third Saturday of July, the Kelso Laddie meets the Bari Gadgi during the Yetholm Ride from Kelso.
There are fine thatched cottages in Town Yetholm, reminders of its origins as a farm township.
Kirk Yetholm, the home of the gypsies, is also the north end of the Pennine Way which starts in Edale in Derbyshire, some 270 miles away.
See also: Yetholm Village Web Site.
Stage Two - St. Boswells to Harestanes | Stage Five - Yetholm to Wooler