Herons a first for Tweed Valley viewing centres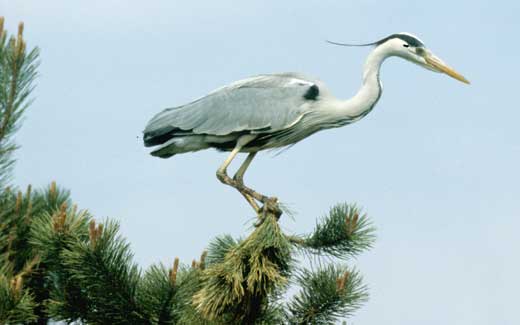 For the first time ever, live CCTV action of baby herons can now be seen in the Tweed Valley Osprey Watch centre at Kailzie Gardens, just outside Peebles.
With the warmer weather truly on its way, visitors to the Kailzie Gardens osprey watch centre can also see a number of other birds and their young laying eggs and rearing their hatchlings on camera.
There are two osprey viewing centres, one at Glentress Forest and the other at Kailzie Gardens. Both are showing a variety of species and are run jointly by Forestry Commission Scotland and RSPB Scotland.
Emma Rawling, Osprey Centre officer, said: "Live action of herons and their chicks is a first for us and we think we are the only place in south Scotland that visitors can witness this kind of footage on the nest.
"Herons might be a familiar sight on our waterways but few people have ever seen them nesting and the young birds are truly remarkable. These huge, prehistoric looking babies are a delight to watch."
Also nesting live on camera at Kailzie are nuthatches- another first for the project. A few years ago this species was only found south of Newcastle but it is spreading northwards in the UK every year.
Emma added: "Nuthatches have been a favourite on our bird feeding station for a long time but this is the first time here they have ever used a nest box with a camera inside it".
Also featured live on nest cameras this year are swallows and jackdaws at the Glentress Centre, and of course there are always the 'stars' of the project, the ospreys, which are currently incubating two precious eggs, due to hatch late May or early June.
The centres are open 10-5pm each day until the end of August. Log on to www.forestry.gov.uk/tweedvalleyospreys for more information.