Coldstream – proud of its military connections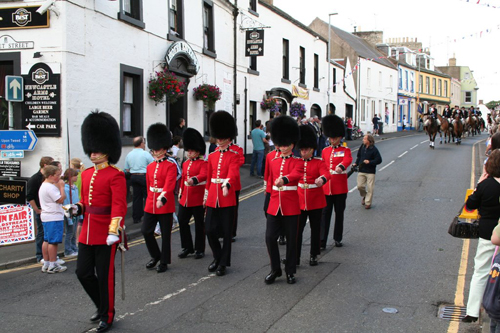 It is eminently fitting that the town of Coldstream brings the curtain down on the Borders famous annual ridings season.
Tradition, community spirit and collective celebrations are all integral to the common ridings, but one theme stands above all other, the Battle of Flodden Field.
The sheer scale of the events that unfolded in the beautiful countryside a few miles outside Coldstream one September day in 1513 demand that Flodden should never be forgotten.
And members of the locally run 1513 Club are pledged to do just that.
Estimates suggest the Scottish death toll, which included the Scots king James lV and the flower of his noble classes, exceeded 10,000. He was the last British monarch to be slain in battle.
Coldstream is famous for another piece of military history, having the distinction of being the only town in the UK to have a regiment named after it – the Coldstream Guards.
They don't come any better than the Guards who have 117 battle honours to their name and no less than thirteen guardsmen have been awarded the Victoria Cross for conspicuous valour in action.
The regiment dates back to the 1650's when General Monk raised a body of men who went on to play a crucial part in the restoration of Charles II. Monk's Regiment of Foot later became the Coldstream Guards and the regiment's history can be found on display in the Coldstream Museum in the centre of town.
Wander off the High Street and you will find attractive walks and magnificent views across the River Tweed.
Berwick upon Tweed Borough Museum | Duns – a place of legends