From bonny borderland to darkest Africa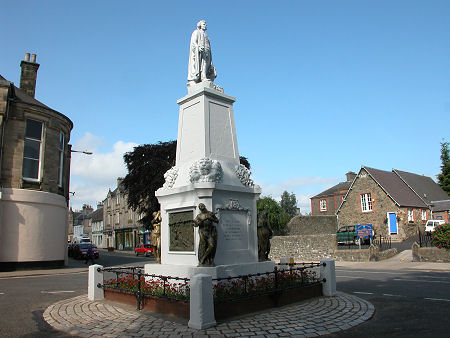 As Mungo Park started his medical studies at Edinburgh in the late 1780's the big news of the day was all about France where revolution had ushered in an era of turmoil and savagery.

But if these were the worst of times, when Britain faced a protracted war with France that would be spread over 25 years, they were also an age of enlightment and discovery and Mungo was destined to make his mark on history.

The seventh child of a well to do farmer from Foulshiels, just outside Selkirk, Mungo had his sights set far beyond the Scottish Borders to make his way in the world. When he was offered the post of assistant surgeon on an East India Company expedition to Sumatra in 1793 he jumped at the chance.

And while in the Far East he indulged an interest in botany and discovered and recorded several new species of flora; studies that would open doors to influential new contacts in London on his return.

They included Sir Joseph Banks, himself a famous botanist and explorer who had circumnavigated the world with Capt James Cook, and a leading light in the Africa Association that supported attempts to open up the 'dark' continent.

In 1795 Mungo accepted a commission from Sir Joseph to travel to Gambia and from there organised an expedition to discover the course of the River Niger. It was trip that ended in disappointment and considerable personal suffering as he fell foul of local chiefs and Moorish tribesmen.

The fact that he managed to travel hundreds of miles inland to Segou, in modern day Mali, and live to tell the tale, was an achievement in itself. Eventually running out of resources he was forced to make his way back to the coast and then to Britain.


The observations he had made were published and became an overnight sensation but Mungo's ambitions to return to complete the assignment had to wait until 1805. In the interim he married and established a successful surgery in Peebles. When the call came to make a second trip was offered, again by Sir Joseph, he had no hesitation in accepting.
This time he was to head a party that included 40 men from the Royal Africa Corps and builders to construct a boat when the source of the Niger was reached.

Against all advice and logic, he set off in the rainy season from Gambia and before long his party was severely reduced as men died of dysentery.

Reaching Segou the depleted party converted a canoe and travelled over 1,000 miles along the river through country that was openly hostile and always intimidating.

The remaining party of Park and handful of men were killed by natives at Boussa rapids, in Nigeria, in 1806. His body was never found but Mungo Park is remembered as a courageous explorer who opened the way for those that followed.

Letters to his wife and friends in the Borders, sent while he was on expedition in Africa, can be seen on display at the Sir Walter Scott courtroom in Selkirk. In his memory, the Mungo Park Medal is presented annually by the Royal Scottish Geographical Society.

The Mungo Park statue in High Street, Selkirk has four cast corner pieces of African natives by the internationally famous sculptor Thomas Clapperton who was born and brought up in nearby Galashiels.