Hawick's sons of speed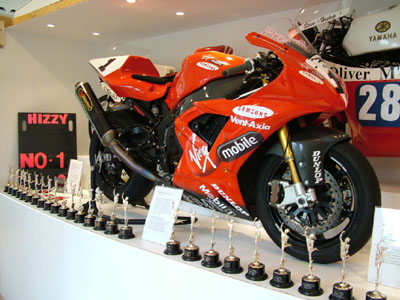 Bikers are making a beeline for Hawick's museum, now home to permanent exhibitions commemorating two of the town's sporting superstars.

A decision by Scottish Borders Council to bring together displays paying tribute to top motorcyclists Jimmy Guthrie and Steve Hislop has proved to be inspired.

The museum, set among the tranquil acres of Wilton Park, is destined to become a place of homage for motorcycling fans as well as those who admire sporting excellence.

The displays chart success at the highest levels for Guthrie and Hislop who were among the greatest motorcyclist riders of their generations and whose stories both ended in tragedy.

Jimmy Guthrie died aged 40, riding his beloved Norton motorcycle and, as usual, leading the field and thrilling a crowd of 250,000 people packed into the Sachsenring circuit in Germany.

The year was 1937 and Jimmy, who had sharpened his talent for riding motorcycles as a despatch rider in the battlefields of France during the First World War, was at the pinnacle of a glittering career. Over the previous 10 years he had raced and beaten the best collecting 32 major titles.

The Hawick flying machine won grand prix year after year in Europe, a clutch of TT titles and broke six world speed records between 1934 and 1936.

He was adored by motorcycling fans, even in a Germany gripped by Nazism. The inscription on his 1936 European Grand Prix trophy carries an endorsement from the highest level – the leader and Chancellor of the German Third Reich, Adolph Hitler.


At home Jimmy ran a garage business in Hawick High Street with his brother Archie. He regularly rode to Keswick and back before starting work – the distance being almost exactly that of the Isle of Man TT course.
At the Sachsenring he was on the final lap when he came off his bike on the notorious Noetzhold corner, suffered terrible injuries and died soon afterwards.
The Germans laid on a special train and a military escort as Jimmy's body made the solemn journey home to Hawick where his funeral attracted huge crowds.
Steve 'Hizzy' Hislop was another "quiet lad" who let his skills on the track do the talking. He got his big break when Denholm garage owner Jim Oliver got him a ride with Honda and he didn't disappoint.

Best remembered as a double British Superbike champion, winning the title in 1995 and 2002, Steve also recorded 11 wins at the Isle of Man TT races between 1987 and 1994.




He was as good as they come on his day when everything was running right. In 2002 he rose a faultess season and when qualifying for a championship round at Donnington Park he broke Valentino Rossi's Grand Prix lap record – on a bike 25% less powerful.

Steve died at the age 41, when the helicopter he was piloting crashed in murky weather conditions in Teviotdale in 2003.

On show at Wilton Park are the bikes they rode, trophies and the stories of the skills and courage that took both men to the top in their sport.

Hawick Museum
Free Admission
Wilton Lodge Park
HAWICK
TD9 7JL
Tel: 01450 373457

Opening times 2008
3rd January - 20th March
Monday to Friday: 13:00 to 16:00
Sunday: 14:00 to 16:00
21st March - 30th September

Monday to Friday: 10:00 to 12:00 & 13:00 to 17:00
Saturday & Sunday: 14:00 to 17:00
1st October - 24th December
Monday to Friday: 12:00 to 15:00
Sunday: 13:00 to 15:00