Market town that's full of surprises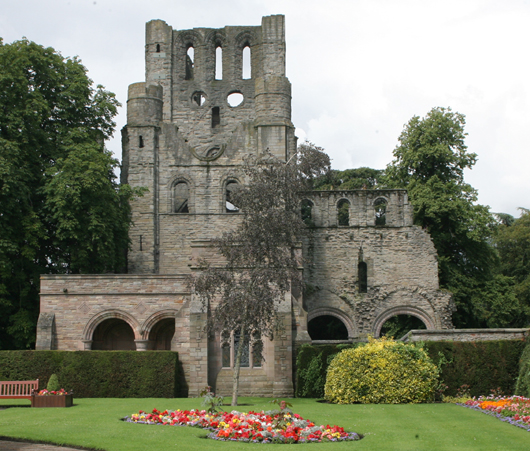 The medieval Borders market town of Kelso has many claims to fame.   
It's where the young Walter Scott went to school and spent his formative years, one of the region's great abbey towns and has an 18-century market square that is the largest in Scotland.   
Nearby Floors Castle, home to the Duke and Duchess of Roxburghe, is the largest inhabited castle in Scotland. The building, open to the public all year round, was designed by William Adam and his son Robert between 1725-78.   
This picturesque pocket of the borders, flanked by the Lammermuir Hills and the Cheviots, is also where the mighty River Tweed, joined by the Teviot, comes into its own.  
The confluence, known as the Junction Pool, is an eagerly sought after pitch for fly fishers - even though it can command prices of up to £30,000 a week for five rods. The Tweed, reckoned  by some to the be the best Atlantic salmon river in the world,  counts Ian Botham, Chris Tarrant and Geoffrey Palmer among its fans.  
Like Jedburgh and Melrose, Kelso developed around its ancient abbey, enjoying the patronage of King David 1. It suffered during successive invasions by the English  and was left in ruins during the 'rough wooing' instigated by Henry Vlll.   
Street names such as Woodmarket, Coalmarket, Horsemarket and Distillery Lane are a living testament as to how it flourished as a trading centre.  
As with every other border town Kelso is passionate about rugby and horse riding, the big equestrian event of the year being the Floors Castle Horse Trials which attracts top riders from the UK and abroad.   Kelso also has its own race course hosting regular national hunt racing and a point-to-point course that holds three meetings a year.  
And here's a pub quiz teaser....what does Kelso have in common with the FA Cup final and the last Night at the Proms?
A: Enry Francis Lyte, prolific hymnist who wrote 'Abide with me' and poet James Thomson who wrote the words to Rule Britannia. Both men came from Ednam near Kelso.