Heart of Hawick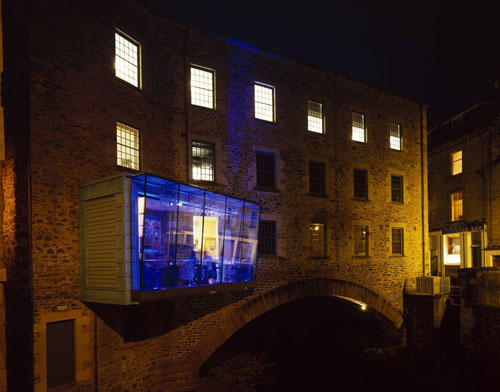 The oldest part of town is aptly home to the flagship Heart of Hawick development.
It comprises the Heritage Hub, repository of ancient documents and records from the Borders, and a superb visitor centre that incorporates a bistro cafe, tourist information desk, a cinema and theatre.
It is also a popular choice for travelling exibitions, as is the square outside for concerts, street theatre and a monthly farmers' market.
Formerly Elliott's textile mill, the cafe features a glass floor through which visitors can view the original water wheel that once powered the machinery. In these environmentally conscious times the wheel has been the subject of a study to see if it could be brought back to life provide power for the building.
Beautifully restored, many of the original mill features have been designed into the new facilities - but one aspect of its industrial past was not planned for. Several people reported seeing and sensing something paranormal on the top floor of the old mill - a presence confirmed by a local psychic and backed up by research that found that a local girl had died in an industrial accident in the 1800's.
At the neighbouring Heritage Hub, delving into the past attracts enquiries and visitors from all over the world. The electronic highway is particularly hot these days at the Hub as the Borders gears up for the Homecoming Scotland 2009 celebrations. The national initiative is encouraging ex-pat Scots and the descendants of Scots who left their homeland to look to new horizons, to return to their roots in 2009.
The Borders contribution to the Homecoming includes a first international gathering for Clan Scott at Bowhill, Selkirk and an invitation to take part in the Common Ridings. There's also a programme of special events being organised to commemorate the region's links with the Border Reivers.
The fortuitous meeting of Slitrig Water and the River Teviot at Hawick helped power astonishing industrial growth in the town which is known the world over for its high class weaves and the finest quality knitwear. Hawick is the home of Cashmere and the starting point for the Cashmere Trail.