History heritage and sporting heroes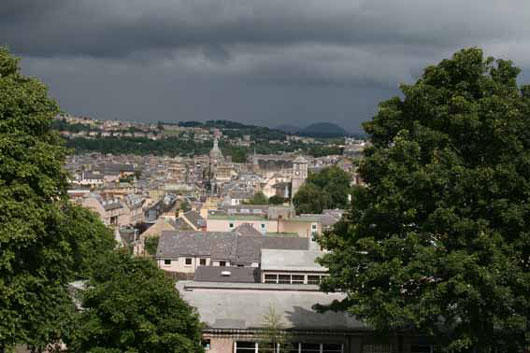 Hawick's roots trace back the 7th century when the Angles founded a 'wick' or settlement enclosed by a hawthorn hedge giving the town it's name and the foundations of a remarkable community identity. 
The town is located in the middle of what was the Border Reivers' badlands, whose terrifying brand of lawlessness held sway for over 300 years across the dividing line between England and Scotland. 
Living by the sword often meant dying by the sword but at Hawick they managed to come up with another gruesome means of despatching villains, at its infamous 'drowning pool' near the centre of town. The Reivers are the focus of an annual costume festival held in Hawich every March. 
Like all Border towns, Hawick was on the front line for many bloody clashes between Scotland and England. In the High Street, 'The Horse'  monument commemorates victory by local youths over English invaders at nearby Hornshole in 1514. 
That event and the devastating losses sustained the year before at the battle of Flodden are commemorated each year with one of the oldest Border Ridings. 
Pride and passion is a thread that runs through the town's sporting life, too, and where rugby looms largest. The town has produced scores of Scottish internationals and is home to the 'voice' of rugby, former commentator Bill MacLaren.
    

Other home grown sporting heroes include round the world yatchsman Chay Blyth
and world class motorcyclists Jimmie Guthrie and Steve Hislop. Both men, who were to die young in tragic circumstances,  have superb exhibitions at the Hawick Museum in Wilton Park which is set amidst 107 acres of riverside and tree-lined walks and recreational facilities.
The Common Riding is a symbolic, colourful and spectacular occasion when up to 300 riders follow the Hawick Cornet, the lead rider and standard bearer, around the town's boundaries. 
The Borders has put its own spin on the Homecoming Scotland 2009 initiative with a 'Return to the Ridings' to encourage ex-Scots to return to their roots. 
Staff at the Heritage Hub, part of the Heart of Hawick regeneration development, have been contacted by people from all over the world for help to trace their families Border roots. The Hub's other half was formerly a textile mill and the massive water wheel that once powered operations can be viewed below a glass floor in the coffee bar. 
The new facilities also include a cinema and theatre and provide a venue for travelling exhibitions.
    

Textile manufacture in the Borders is renowned the world over though these days the industry is a shadow of its former self. At one time Hawick hummed and thrummed to the sounds of over 50 mills and the town is the home of Cashmere and the start of the Cashmere Trail.
The importance of the textiles industry is recognised at the Textiles Towerhouse in Drumlanrig's Tower just round the corner from Heart of Hawick.
Borders Railway Community Rail Partnership | Rough justice for the Reivers